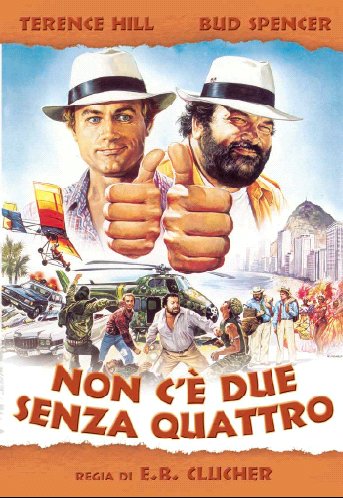 Datos del Ripeo:
Calidad: Dvdrip (muy buena)
Idioma: Castellano
Tamaño:761 megas
Ficha Técnica:
Género: Acción / Comedia
Nacionalidad: Italia
Año: 1984
Director: Enzo Barboni
Productor: Vittorio Galiano
Guión: Marco Barboni
Fotografía: Silvano Ippoliti, Hélio Silva
Música: Franco Micalizzi
Reparto:
Terence Hill .... Eliot Vance/Bastiano Coimbra de la Coronilla y Azevedo
Bud Spencer .... Greg Wonder/Antonio Coimbra de la Coronilla y Azevedo
April Clough .... Olympia Chavez
Harold Bergman .... Managing director of the 'double agency'
C.V. Wood Jr. .... Officier de police
Dary Reis .... Chef des mercenaires
Nello Pazzafini .... Tango
José Van de Kamp .... Majordome
Fernando Amaral .... Secrétaire
Roberto Roney .... Nadino
Athayde Arcoverde .... Vinicio
Claudioney Penedo
Dennis Bourke .... Doctor
Argumento:
Greg Wonder y Elliot Vance no tienen nada en común. Uno es introvertido, que acaba de salir de la cárcel y ahora toca el saxo en un pequeño local de jazz. El otro es un aventurero que emprende cualquier trabajo con el mayor de los entusiasmos. Los dos viven muy lejos uno de otro, pero a los dos les ofrecen al mismo tiempo, un trabajo secreto y muy bien pagado por una anónima organización. En la reunión con el jefe de la agencia, que se dedica a buscar "dobles", les informa que para ganar un millón de dólares cada uno, deben aceptar ambos el trabajo. Suplantar a dos hombres muy influyentes, clientes de la agencia, y que por razones de seguridad necesitan ser sustituidos por unos días, son los primos Antonio y Bastiano Coimbra de Rio de Janeiro, que poseen desde ranchos a bancos y que en siete días van a firmar un importante contrato que unos rivales suyos van a intentar evitar a toda costa.
Dos super Dor x Megaupload Parte Unica!!
By.Alastor